Wednesday, October 10, 2018 / by Diana Olivas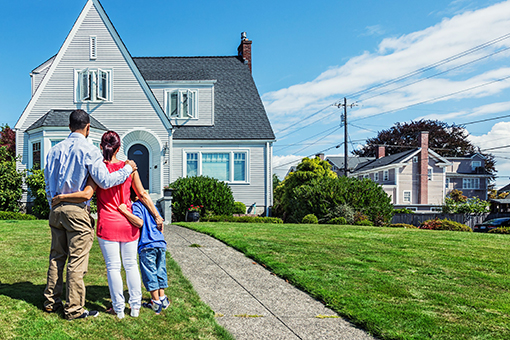 Mark and Mary are neighbors. Mark rents his house from a landlord, while Mary owns her home. They both pay similar housing costs each month to enjoy the neighborhood in which they live. What's the big difference between the two? Equity. Mary's monthly payments are working for her, helping her to gain financial stability. Mark's, on the other hand, are going straight into his landlord's pockets.
Dont' be like Mark. Be like Mary.
When you own your home, it's more than just a place to live; it's also a financial asset. As you pay your mortgage each month, the money you put toward principal acts as a kind of forced savings. In other words, your money is never really "going down the drain," so to speak. That's because, as you pay down principal, your equity (the amount of your home you actually own) grows. This equity can eventually become liquid cash that you can access, either by selling your home or borrowing against it.
It doesn't matter how long you've been renting, or how insurmountable your financial situation may seem. The truth is, there are some little known facts that can help you get over the hump, and transfer your status from renter to homeowner.
The problem that most renters face isn't your ability to meet a monthly payment. Goodness knows that you must meet this monthly obligation every 30 days already. The problem is accumulating enough capital to make a down payment on something more permanent.But saving for this lump sum doesn't have to be as difficult as you might think.
0% Down Payment*

You can buy a home with much less down than you think.
Down Payment Assistance grant can provide eligible first-time homebuyers with funds needed for their down payment. In order to help people get into the housing market. You can start with 0% down payment or 1% with a 2%.
You can qualify as a first time buyer
even if your spouse has owned a home before as long as your name was not registered. Ensure your real estate agent is informed and knowledgeable in this important area and can offer programs to help you with your options.
Even if you do not have enough cash for a down payment, if you are debt free, and own an asset free and clear (such as a car for example), your lending institution may be able to lend you the down payment for your home by securing it against this asset.

Contacting us to see if you may qualify for this grant at (571) 748-7360.
The equity in your property can be a valuable resource, as it may allow you to secure finance to achieve your goals, whether they be investment or lifestyle oriented.
Home equity refers to the market value of your home—which won't necessarily be the price you purchased it for minus the amount still owing on your home loan.
Building home equity is important. It your financial stake in your house and since it's considered an asset.
If you're wondering how you can go about building equity, check out seven easy ways to get started.
How to Build Equity
1. Make a Big Down Payment
Your home equity represents how much of your home you actually own. If your goal is to build as much equity as you can in a short span of time, you can opt to make a large down payment. Industry standards generally say that homebuyers with conventional loans should put down at least 20%, particularly if they want to avoid paying private mortgage insurance. That means putting down even 21% can increase your home equity more quickly. (Of course, this will give you more equity in your home but may not be where you want to put your money. It's important to assess all of your financial goals before doing this.)
2. Focus on Paying Off Your Mortgage
Your home equity is equal to your down payment plus the amount of money you've put toward paying off your mortgage. So you can build equity simply by making your monthly mortgage payments. If you bought a $300,000 home and made a 20% down payment, you have a 20% stake ($60,000) in your house. As you pay off your mortgage little by little over time, your equity rises. To find out by how much, it's a good idea to find out how much of your mortgage payments are going to interest and how much are going to the principal (the latter will help you build up equity.)
3. Pay More Than You Need To 7 Steps to
Building Equity in Your Home Another way to build equity is to go above and beyond what your lender expects of you. For example, instead of making a $1,000 monthly payment towards your mortgage, you could take it up a notch and pay $1,500 every month. If that's not possible, you could try to make just one additional payment per year. It's important to ensure with your lender that the extra money will go toward paying down the principal. With your extra payments, you'll be able to pay off your mortgage more quickly, build equity much faster and potentially save hundreds or even thousands of dollars in interest. That excess cash could then go towards paying off other loans or saving for retirement. Check out our mortgage calculator.
4. Refinance to a Shorter Loan Term
A refinance can offer another opportunity to build equity. By refinancing your 30-year mortgage to a 15-year loan, you can finish paying your mortgage off in half the time and enjoy the benefits of having access to plenty of home equity. But since you'll be speeding up the payoff process, you'll be paying more money every month. And keep in mind that a refinance isn't guaranteed. To qualify, you'll likely need to have good credit, a certain amount of equity already and a low debt-to-income ratio. Checking your score ahead of time will let you know whether you need to beef up your credit before applying. If you can qualify for a refinance loan, it might be a good idea to steer clear of a cash-out refinance. You'll end up with a bigger mortgage than you started with. Plus, it's counterproductive if you're on a mission to build home equity (since you'll get cash in exchange for the equity you already have).
5. Renovate the Inside of Your Home
Making improvements to your home's interior can help you raise it's overall property value. And the good news is that these alterations don't necessarily have to be expensive. You can remodel portions of your home on the cheap by repainting the walls in your kitchen or updating your light fixtures, for example.
6. Wait for Your Home's Value to Rise
7 Steps to Building Equity in Your Home Patience is a virtue and if you're not in a rush to use the home equity you're building, you could wait until your home's value goes up on its own. History shows it will likely happen naturally and as the market adjusts and home prices increase, the appreciation will boost your equity too. Of course, anything can happen and your home's worth (and your home equity) could decline unexpectedly as well. Related Article: Estimate My Home Value
7. Add Curb Appeal
The outside of your home could probably use some TLC as well. Giving your grass a fresh cut, adding in some flowers or installing shutters can certainly make a difference when it comes to improving your home's value once it's time to sell. The Takeaway Fortunately, there's more than one way to build home equity. So if paying off your mortgage early isn't possible, you can make budget-friendly adjustments or try to refinance. As your equity interest rises, you'll be able to tap into it and potentially use that cash for other financial goals.